The Band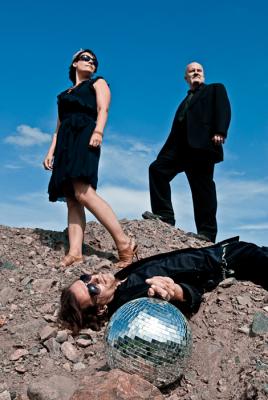 "A work of art that stands out from the glut of current Finn-exports of all music genres."
"Ein Gesamtkunstwerk, welches aus der Schwemme an derzeitigen Finn-Exporten aller Musikrichtungen heraussticht."
Michael We / Nonpop.de
"Death Pop on nautittavan hallittu rikos listapoppia kohtaan."
J.A. Kaunisto / mesta.net
With their first album "Revolution Is Over" the Karoshi Lovers from Helsinki/FIN rocketed themselves from zero to one of the most appreciated acts of the Finnish indie-scene. A threepiece performing in a quite unusual line-up (drums, piano, guitar), fronted by female singer/pianoplayer Ms Stress, managed already then to combine catchy pop-melodies with a remarkable dark element and a theatrical stage-appearance. An apparent thing has been from the very beginning their flirting with the term "Karoshi" - Japanese for "sudden death from overwork". Not to surprising to find a coverversion of the Godfather's "Birth School Work Death". And a great one if we may say so.
For their second album "Death Pop" they sharpened their sound by adding more of the rocking elements that so far were mostly a trademark of their live-shows. A smart move. The songs on "Death Pop" are a simply brillant blend of hard rocking guitars, bubblegum melodies, gloomy atmosphere and dancable beats, held together by singer Ms Stress' vocal presence. There is not to many bands this can be compared with. One might find elements of early Blondie or some bits of PJ Harvey all accompanied by a touch of 80s pop in there but at the end of the day it's an all original thing this nordic pop-outfit delivers.
While working on the "Death Pop" songs Karoshi Lovers constantly kept on playing live to test the quality of the new material in front of audiences. A method that apparently worked out nicely. With one of the up-and-coming Finnish producers, Rami Helin, they got this highly convincing selection of new tracks to tape. An album that is very likely to push the band to higher levels not only in Finland.
(Text by 9PM Records)


Short history:

Karoshi Lovers was formed in the spring of 2007 when Ms. Stress (vocals, keyboards), Kid Karoshi (guitar, vocals) and Joy-R (drums) wanted to create a new concept to the overwhelming pop markets. Ms. Stress ran into the Japanese term "karoshi" by accident on the internet. The word means "sudden death from overwork". The trio arrived at the same conclusion that Karoshi sums up the western world around us: fast working life and death at a young age. The group's unique sound is the result of the trio line-up - sometimes less is more, like the old phrase says.
There Is No Alternative